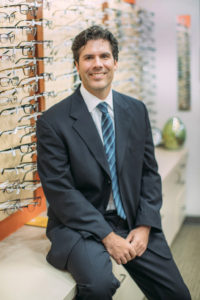 Dr. Lewis moved to Walla Walla to join one of his friends and colleagues at the Walla Walla Eye Center in September 2016. He was born and raised in Oklahoma, graduated Summa Cum Laude with an Honors Degree from Oklahoma State University, and then attended the University of Oklahoma College of Medicine, where he graduated in 2006. He completed his residency in ophthalmology at Texas Tech University Health Sciences Center in 2010. During his residency, he attended the Bay Area Ophthalmology Course at Stanford and graduated in the top 10% for resident surgical volume. He then attended the University of Wisconsin, completing a fellowship in Ocular Pathology under the esteemed Dr. Daniel Albert. Upon completion of his fellowship, Dr. Lewis returned to the Texas Tech Department of Ophthalmology as an assistant professor, instructing residents in clinical and surgical ophthalmology. In addition to a comprehensive ophthalmology practice, Dr. Lewis was the only ocular pathologist and physician performing electrophysiologic diagnostic testing in West Texas. While at Texas Tech, he received the Unsung Hero Award and the Departmental Teacher of the Year Award. He has been published in the Archives of Ophthalmology, presented a poster at the Association for Research in Vision and Ophthalmology, and authored a chapter on choroidal nevi in the highly respected Ryan's Retina. He has also lectured at various conferences and seminars.
Dr. Lewis is a diplomate of the American Board of Ophthalmology and earned his board certification in 2012, scoring in the top 10% of the nation. He is a member of the American Academy of Ophthalmology and the Christian Ophthalmology Society.
Dr. Lewis has a comprehensive ophthalmology practice, including cataract surgery, both standard and complex cases, management of glaucoma, uveitis, and medical retina, predominantly focusing on treatment of macular degeneration and diabetic eye disease. He also performs basic eyelid surgeries and removal of conjunctival and corneal tumors. He has volunteered for multiple medical and eye clinic organizations, and has gone on medical missions to Peru, Mexico and several missions to Brazil.
Dr. Lewis enjoys various activities including golf, basketball, baseball and tennis. He enjoys traveling and has traversed much of the United States, as well as having had the opportunity to visit Europe and Central and South America. He also enjoys hiking, biking, and fishing, and is excited about the opportunity to live in the Pacific Northwest.