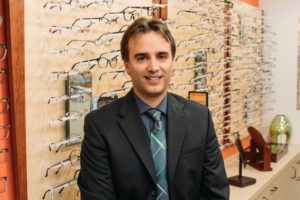 Dr. Daniel Hanson moved to Walla Walla to join his friends and colleagues at the Walla Walla Eye Center in 2018, and so he and his wife could be closer to family. He graduated with honors from Walla Walla University in 2003 and received his medical degree in 2007 from Loma Linda University in California. After medical school, Dr. Hanson completed his internship at the Ochsner Clinic Foundation in New Orleans, LA, where he was given the Caring Heart Award for his outstanding service. He went on to complete his ophthalmology residency at Louisiana State University and during his senior year there, he served as the chief resident.
Following his training, Dr. Hanson practiced ophthalmology for seven years in Ellensburg, WA, where he had his own practice before eventually deciding to move on. He is board certified through the American Board of Ophthalmology and a member of the American Academy of Ophthalmology. Some of his professional interests include small incision cataract surgery (including using premium lenses), oculoplastics procedures such as eyelid surgeries, management of glaucoma, treatment of diabetic retinopathy, management of macular degeneration (including injections for wet macular degeneration), assessment of eye muscle disorders, and management of infectious and inflammatory conditions of the eye. He has a calm, caring demeanor that patients and staff greatly appreciate.
In his free time, Dr. Hanson enjoys pursuing his passions of photography, astronomy, cycling, bird watching, many other outdoor activities, and being a dad to his beautiful baby girl, and he is happy to be back in the northwest after his education took him elsewhere for many years.